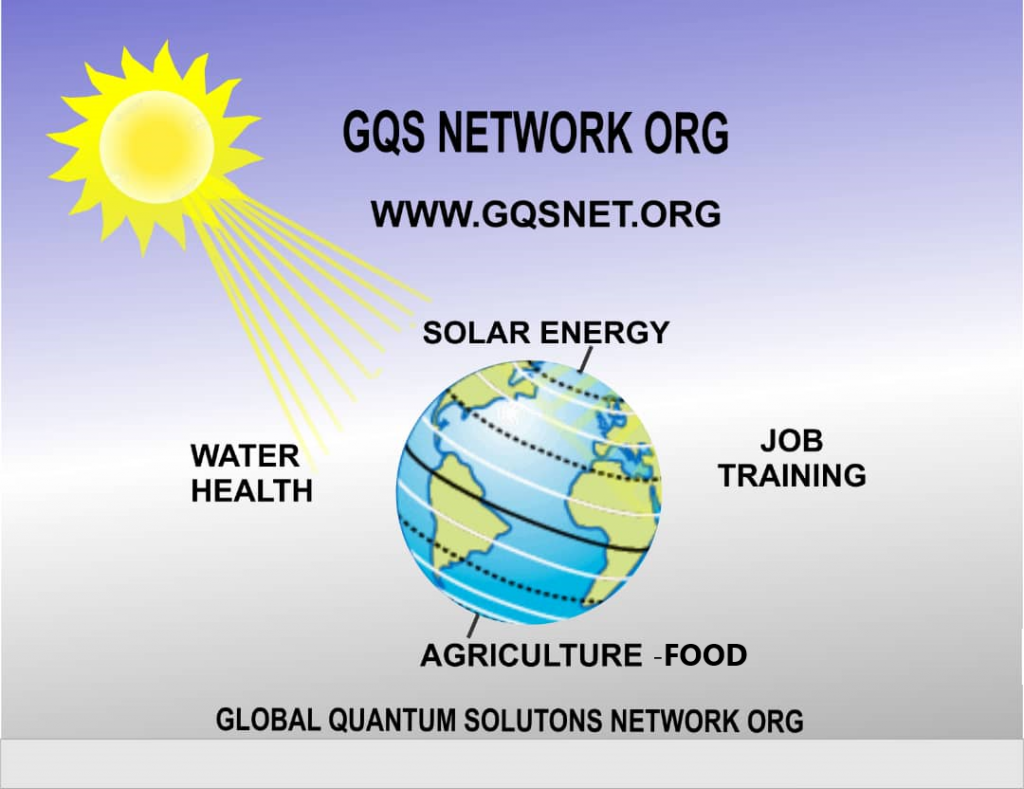 END FOOD HUNGER                                SCHOOL ELECTRIFICATION                PLASTIC & WASTE ELIMINATION
MISSION
Global Quantum Solution Network (GQS Network) is a renewable energy organization that provides free to low cost online education, training in the USA and globally; in addition, assist the underserved to obtain environmental  sustainable electricity, water, health care, agriculture, Food, Zero Waste, Energy and a Single-Use plastic waste free environment.
                                                                                    VISION
Everyone should have access to basic electricity and drinking water, education, health care and the opportunity to work or create  enterprises. We envision affordable Renewable Energy and leveraging the power of technology, a circular economy model, zero energy and zero waste to achieve sustainable development globally.
                                                          THE GLOBAL ENERGY POVERTY CHALLENGE
Too many people living without access to Basic Electricity about 1.0 billion people in the emerging economies, according to the World Bank South Asia, Sub Saharan Africa, the Caribbean and South America,  PLEASE MAKE A DONATION TODAY—>DONATE
The United Nation (UN) has established 17 Sustainable Development Goals (SDG 17) a set of goals to end poverty, protect the planet, and ensure prosperity for all by 2030. We are mainly focusing on helping to resolve SDG 7- Affordable and Clean Energy, in addition, to SDG6- Clean water and Sanitation, SDG 3- Good health and Well-Being, SDG 1, 2 End Poverty and Hunger by adapting Advanced Agriculture method. 
According to the UN "Energy is central to nearly every major challenge and opportunity the world faces today, including poverty eradication, gender equality, adaptation to climate change, food security, health, education, sustainable cities, jobs and transport, speakers told a key United Nations forum on sustainable development" 
To see all SDG 17 Goals click here   https://bit.ly/2jHjQmD and what you can do in your everyday live to achieve SG17 Goals click Here A list of actions you can take to help transform the world


Global Quantum Solutions Network Organization Org (GQS Network) is a 501C3 Non-Profit organization operates national and multinational; whose goal is to apply appropriate  affordable Renewable Energy (RE) technology, Solar Photovoltaic(PV), Wind Turbine, and Hydropower to resolve electrification problems. 
Apply social entrepreneurial skills and training to Engage, Educate, Empower communities and individuals to improve their well-being in the USA and globally. Our goal is to design, install, and maintain sustainable RE systems to provide 100%  electricity  24×7 to homes and enterprises.
Job training and creation by leveraging technology to enhance school (STEM) Science, Computer technology and internet  application to help student, teachers, workers,  businesses improve productivity and remain competitive.
Gender equality is important to our organization projects from implementation, design, installation, technical and end user training.
We offer online distance learning, technical training, and access to health and wellness information, agriculture, irrigation and advanced farming, Solar water pumping, potable drinking water in developing countries.

Help with the global challenge of plastic waste polluting our environment, plastic bottles and single-use plastic containers are leaking into our sewage systems, canals, rivers and oceans all over the world destroying the ecosystem.

We want to help individuals improve their standard of living, find jobs and create enterprises in villages, and communities in the developed and developing world
Would you like to support us by helping with our work? Then do not hesitate to contact us. A helping hand is always greatly appreciated PLEASE MAKE A DONATION Today—>DONATE